Many ecommerce shippers know that small parcel ground shipping provides a cost-effective, relatively quick way to send packages to many destinations within the US.  
Choosing the right shipping carrier and service can be challenging because there are so many variables that factor into the decision. Most major domestic carriers offer small parcel ground shipping services. Each has distinction Here is a cross-comparison of the following shipping services.  
USPS Ground Advantage 

 

UPS Surepost

FedEx Ground Economy 

 

DHL Small Parcel (and Parcel Plus) Expedited

 
This high-level comparison takes the following factors into account: pricing, delivery speed, reliability, and additional features. These services all have similar attributes, but may bring a different level of service to shippers.  
What is USPS Ground Advantage? 
It's important to note that one of these services is much newer than the rest.  
In June of 2023 USPS launched the small parcel ground service called Ground Advantage. With this new service, shippers can send packages that are between 1 oz. and 70 lbs. with an estimated transit time of 2-5 days.  
Ground Advantage was an attempt to create a simple, reliable, and competitive way for shippers to transport their packages. The Postal Service removed three services (USPS Retail Ground, Parcel Select Ground, and First-Class Package Service) and rolled them into one new, simplified service called Ground Advantage. You can read more details about the benefits and differences of USPS Ground Advantage.  
What is Small Parcel Ground Shipping? 
Small parcel shipping is a category of shipping service that supports packages less than 70 lbs. They can be shipped in branded packaging or carrier supplied boxes.  
Small parcel shipping is not the same as freight shipping, with small parcel packages are not shipped via pallets—they are usually smaller, individual parcels, often moved through a carrier's small package shipping network, which is different than a freight shipping network.  
Many major US shipping carriers offer small parcel options—UPS, FedEx, regional carriers, and DHL, for example.  
Examples of Small Parcel Ground Shipping Services 
The following is a list of services offered by major carriers and serve US domestic destinations. These services all have comparable attributes.  
USPS Ground Advantage 1 oz.-70 lbs., 2-5 days

 

DHL Small Parcel Expedited 1-16 oz., 2-5 days

 

DHL Small Parcel Plus Expedited 1-25 lbs., 2-5 days

 

UPS Surepost less that 1 lb. Residential, 2-7 days

 

UPS Surepost 1 lb. or greater, Residential, 2-7 days  

 

FedEx Ground Economy Standard Mail 1-16 oz., Transit 2 -7 days

 

FedEx Ground Economy Priority Standard 1-70 lb). Transit 2 -7 days

 
Factors to Consider When Choosing Small Parcel Shipping Service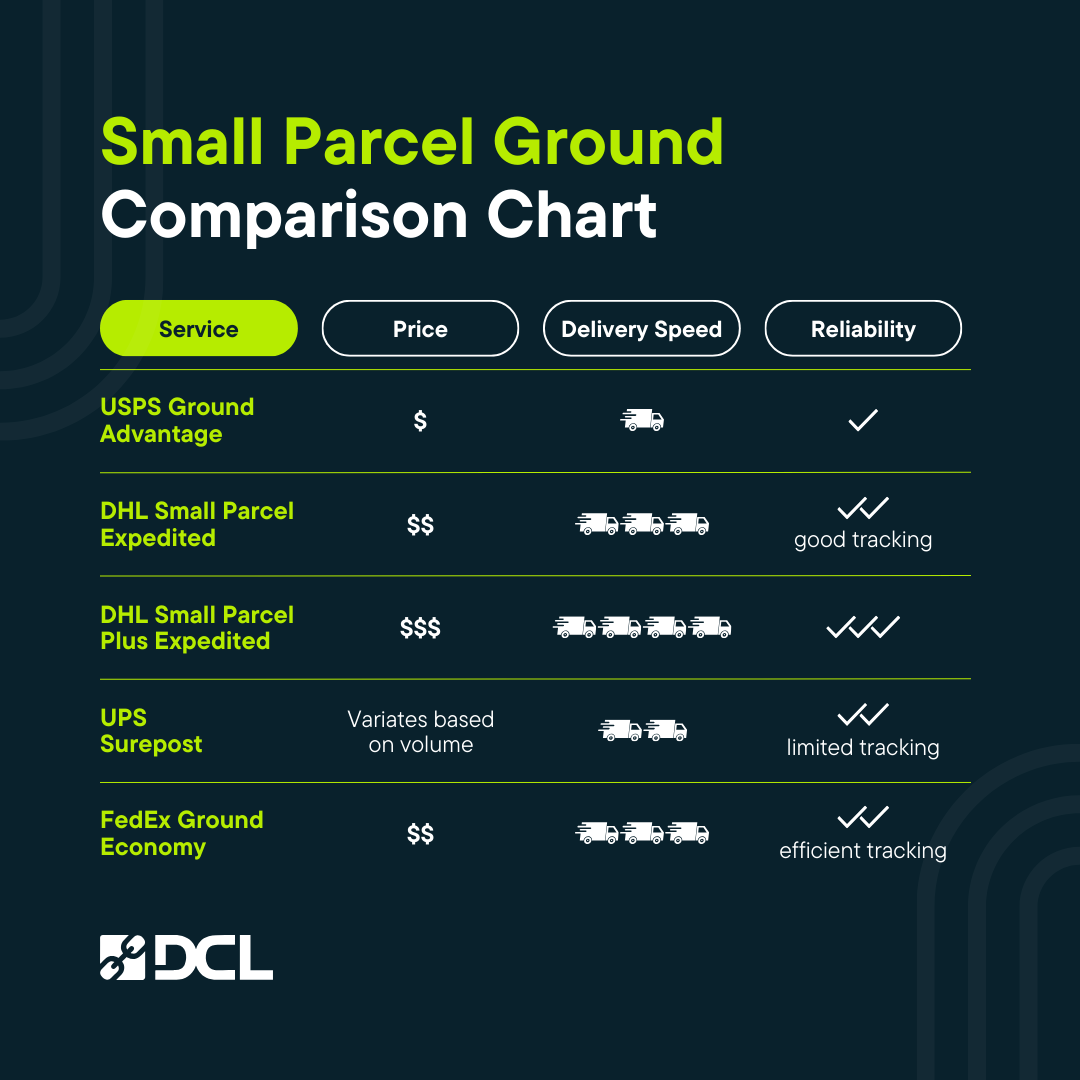 Pricing
Transportation costs can make up a large portion of any ecommerce business budget—sometimes up to 70%. For this reason, overall price is a huge factor when weighing different shipping services. Brands need to consider the cost of shipping packages to customers, but also returns costs. For some, having more predictable shipping costs is a necessity, while for others applied surcharges and accessorial fees may be worth other service attributes.  
USPS Ground Advantage is often the most affordable option of the major US carriers. The US Postal Service offers competitive rates, especially for lightweight packages, plus several flat-rate shipping options. 

 
FedEx and UPS Ground may offer more flexibility in pricing, especially for heavier or bulk shipments. These services often provide volume-based discounts and various pricing tiers for businesses shipping larger quantities. 

 
Delivery Speed
Transit times are becoming a more crucial factor for ecommerce businesses as it directly impacts customer satisfaction and retention. Fast shipping is becoming something that many consumers look for, and some may choose a higher price if it means faster delivery.  
USPS Ground Advantage generally offers a reliable delivery time frame, especially for regional shipments. 

 
FedEx Ground and UPS Ground, being private carriers, have an edge over USPS in terms of delivery speed, especially for long-distance shipments. Some services (like UPS Surepost) use the USPS network for last-mile delivery though, which can add extra time to move packages from one carrier to another. 

 
Package Reliability
No one wants to spend their time processing shipping claims. It's a drain and it's avoidable. Delayed or lost packages can lead to dissatisfied customers and potential reputational damage. That said, reliability may be more important for some types of products, like high-value goods or luxury items. CPG brands may be able to get by with a less reliable service and opt to prioritize speed or cost.  
USPS has made significant improvements in its tracking and delivery systems, but some businesses still report occasional delays and issues with package handling.

 

FedEx and UPS are renowned for their reliability and efficient tracking systems. They offer advanced shipment tracking and proactive notifications, giving businesses and customers greater peace of mind. 

 
Specialty Shipping & Additional Features 
Apart from standard shipping services, businesses often require additional features such as insurance, signature confirmation, and returns management.  
USPS Ground Advantage offers insurance coverage for packages up to a certain value and allows businesses to add signature confirmation at an additional cost. However, the process of filing insurance claims with USPS can sometimes be cumbersome and time-consuming.

 

FedEx and UPS provide a more comprehensive range of additional features with most services. These carriers tend to offer higher insurance coverage options, better returns management solutions, and greater flexibility in customizing shipping preferences. Watch for surcharges that can be added to the base rate and specialty services—especially around peak season. 

 
Key Features of Various Small Parcel Ground Shipping Options  
Below is a list of high-level key features and distinguishing attributes of these four competitive small parcel ground shipping options.  
USPS Ground Advantage  
Affordable Pricing: USPS Ground Advantage is often one of the most economical shipping options for mid-sized businesses, particularly for lightweight packages.

Wide Coverage: USPS has an extensive network, making it an excellent choice for reaching customers across the nation, even in rural areas.

Delivery Time: While generally reliable, delivery times can vary depending on the distance and specific destination. It may not be the fastest option for time-sensitive deliveries.

Package Weight and Size: USPS imposes weight and size limitations on packages, which can be a limitation for businesses with larger or heavier shipments.
DHL Small Parcel Expedited 
International Reach: DHL has a strong global presence, offering extensive international shipping services to more than 220 countries and territories.

Expedited Delivery: DHL Small Parcel Expedited is known for its fast delivery times, making it suitable for time-sensitive shipments.

Tracking and Visibility: DHL provides excellent shipment tracking and real-time visibility, enabling businesses and customers to monitor their packages throughout the shipping process.

Customs and Duties: As with any international shipping service, businesses must be aware of customs regulations and any associated duties and taxes, which can add to the overall shipping cost.
UPS Surepost 
Note that UPS Surepost is a hybrid shipping service offered by UPS, which combines the efficiency of UPS and the final delivery by USPS.  
Cost-Effective: UPS Surepost offers competitive pricing, making it a budget-friendly option for businesses aiming to reduce shipping expenses.

Domestic Reach: With UPS handling the initial stages of shipping and USPS taking care of the final mile delivery, UPS Surepost provides a comprehensive domestic reach.

Delivery Time: While UPS Surepost is generally reliable, the handoff between UPS and USPS can add a day or two to the delivery timeline.

Package Limitations: Similar to USPS, UPS Surepost also imposes restrictions on package weight and size, which may be a concern for bulkier shipments.
FedEx Ground Economy 
Competitive Pricing: FedEx Ground Economy provides competitive rates, making it an attractive choice for mid-sized ecommerce businesses looking to optimize shipping costs.

Timely Deliveries: FedEx has a strong reputation for on-time deliveries, giving businesses and customers confidence in their shipping services.

Delivery Area Surcharge: One potential drawback is the possibility of a delivery area surcharge, which can increase costs for shipments to certain remote or less accessible areas.

Packaging Requirements: Businesses using FedEx Ground Economy should be mindful of packaging guidelines to avoid any additional charges or shipping delays.
Bottom Line  
In the fast-paced world of ecommerce, timely and cost-effective shipping is crucial for businesses to stay competitive and satisfy customer expectations. There are so many variables when finding the right small parcel ground shipping service, and it can be a challenging decision.  
For businesses seeking an economical solution with competitive pricing for lightweight shipments and regional deliveries, USPS Ground Advantage may be the right choice. However, those prioritizing fast and reliable delivery, especially for long-distance shipments, may find FedEx Ground, DHL, or UPS more suitable options. 
Among the various options available, be it USPS Ground Advantage or other small parcel ground shipping services like FedEx Ground and UPS Ground, brands need to weigh the advantages and disadvantages. The comparison outlined above can be used to help mid-sized ecommerce businesses make more informed decisions when selecting shipping options. 
Tags: freight